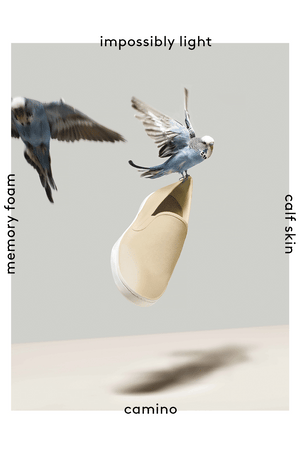 Light, soft and comfortable are 3 words immediately associated with camino.

Impossibly light - weighing only .12kg for women and .28kg for men means less foot fatigue allowing long walks in the city or even treks in the countryside.

Camino is built with 4 layers of support:
- Top leather insole provides breathability
- Its second layer, a memory foam pad, reacts to pressure and heat from feet.
- The 2 outer layers, the sole and heel, provide additional cushioning.

A sleek and no fuss slip-on shoe for both men and women, CAMINO was built to keep up with your dynamic movement. It's the perfect shoe to wear 7/7 from weekday to weekend.